About AnnieUpHigh
Life should not be a journey to the grave with the intention . .



of arriving safely in a pretty and well preserved body, . .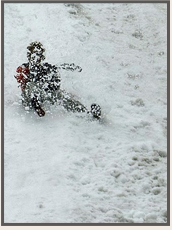 My age today is irrelevant to me as far as how I live my life, but people tell me this is an important part of my story, so okay, I'm 67. Now you know.
Age three is very relevant for me, though, because that's how old I was winter of 1950 when my parents bought forested, hilly land in Hocking Hills (view photo gallery), Ohio and began building our home. By next summer, my older brother and I had explored every acre of that hill and the winding creek below it. I got dirty and wet, skinned my knees, swung on grapevines, and scratched by briars. I was often in trouble, but it was all so much fun! Father would often ask when he got home, "So what did the little wild child do today?"
In my adult years I did my best (but not very well at times) to be a wife, a parent, have a career, and own a business. I humored the wild child occasionally with camping, rafting and hunting trips, but it wasn't until 2006 when I revisited the Rocky Mountains that I realized how much I missed all those adventures from my childhood. I had a "reawakening" and discovered that I really, really liked being "up high". The wild child was free again!
Then I started climbing Colorado's 14ers (view photo gallery) and I've now summited 33 of them. In 2007 I went to Nepal to see the stunning Himalayas (view photo gallery). Wanting to be able to go higher and see more, I took a mountaineering course in the beautiful Cascade Range (photo gallery) and learned technical rope climbing in Eldorado Canyon, Colorado.
When I first learned of the Great Himalaya Trail, I knew I had to go. The 2012 journey was beyond amazing--words cannot describe the beauty of Nepal and her wonderful people. After my return, I fulfilled a lifetime wish to climb the Grand Teton. I gazed down upon Jackson Lake's camp, where 47 years ago I had dreamed of climbing to the top.
I sold my house in Ohio and moved to Colorado. I'm either in the Rockies, the Cascades, or Nepal. Home, though, is really anywhere "up high".
but rather to skid in broadside in a cloud of smoke, thoroughly used up, totally worn out, and loudly proclaiming "Wow! What a Ride!"