The trail to Namche Bazaar and on from there to Gokyo is a familiar one. My feet have crossed its suspension bridges and climbed its endless banks of rock steps six times now. I can recognize and name most Himalaya peaks. I don't need a map to tell me which village comes next, or need advice on which guest house has the best food. I know the green plants growing in weedless gardens are cabbages, potatoes, onions, carrots and beans. Rosey cheeked children with tiny hands folded prayer-like smile, say "namaste." Yak bells are a familiar warning to take the high side and let these beautiful animals and their supply loads pass.
The trail cues deeper, sometimes darker memories of previous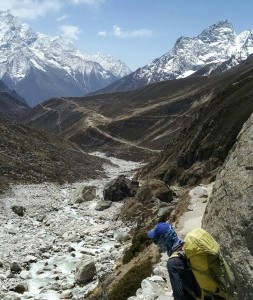 journeys. Older buildings are reminder of the earthquake three years ago. Long cracks scar the walls, as if some giant hand had raked its nails from roof to ground. Hearing helicopter rotors reminds me how remote I am–and that twice I have needed emergency medical evacuation.
The Nepali people on the trail bring inspiration. Their enduring strength and resilience are reminder we all have the potential to make a meaningful journey through life. Their persistence and hard work are an example that we all can find inner strength, if we will only dig a bit deeper. Here in this remote land I feel safe, knowing I have friends, many I have not yet even met, who will watch over me and care for me if I need help.
The trail gives me direction, a sense of purpose. It is a path leading me through grand wilderness, though sometimes with a physical and emotional price. It senses my curiosity and teases me with the possibility of discovering something new in the natural world and, if I dare, something within the mysterious and perplexing world of my soul. It is a lover, forever luring me back, always leaving me wanting for more.
This seventh journey, while filled with so much familiar, is in another sense, delightfully new. My cousins Scott and Barry Price are with me on this trek, experiencing the wonder and awe of the mountains for the first time. They have often asked, "Why do you keep going back?"
Now you see, now you know, now you feel …
The magic of Nepal