Meet My Sponsors
500 East 7th St. Leadville, CO 80461 719-486-9334 www.leadvillehostel.com
"Wild Bill"and Kathy offer great accommodations in the heart of Colorado's Rocky Mountains, with spacious private and bunk rooms, huge country kitchen and dining room, large living room upstairs and down with TV and movies, lots of games and books, terrific meals, transportation to and from Denver, shuttles to trailheads, rafting and skiing, and, of course, so many stories about Leadville's colorful history! Did I mention terrific meals like jambalaya, slow-smoked pork roast, pancakes, beans, mac and cheese, and oh so much more? A fantastic value for your vacation or getaway weekend budget!
. . . My Partners
spoonfulofjemily
Spoonfulofjemily is a blog about Jay and Emily who love to eat and love to cook. We are really enjoying photo-documenting our food adventures. Let us know what you think! Leave us comments, questions, and suggestions, we'd love to hear from you!
MOUNTAIN MADNESS "Make it Happen"—Scott Fisher
3018 S.W. Charlestown St. Seattle, WA 98126 800-328-5925
www.mountainmadness.com
Mountain Madness has been combining the physical challenge of climbing and trekking with the cultural and aesthetic experiences of the wildest places on earth for more than 25 years. We've taken the time to pioneer the most interesting and scenic routes, scout out the best campsites, and discover incredible things off the beaten track. We've also built strong relationships with overseas government agencies and local operators. These continued relationships have allowed us to build upon a standard of excellence and give our clients the consistency they deserve year after year. Want to learn more? Visit our website or contact us at This e-mail address is being protected from spambots. You need JavaScript enabled to view it
SRP Consulting This e-mail address is being protected from spambots. You need JavaScript enabled to view it 512.757.7426
In 2009 Scott created "SRP Consulting" to pursue his passion of assisting in the growth of sustainable businesses. He is committed to working with companies that share his passion for evolving the world to a healthier, greener economy. A 23 year veteran with Whole Foods Market, he always strives for excellence.
Over the last 30 years he has played many roles within the organic and natural products industry. In all these roles, he brings a guiding light to the work at hand. Be it day to day operations, merchandising, regional buying, category analysis, increasing sales, managing distribution, vendor development, new store design and development, enhancing communications or leadership, Scott always blends his experience with a vision of growth to create success.
…and some Very Special Girls.
Girls of Nepal have such a beautiful land in which to grow up! And like all little girls, they deserve a life in which they are safe to grow up thinking they can do anything and that all things are possible. It is heartbreaking that every year 20,000 girls of Nepal, some as young as nine, are trafficked and end up in brothels or are taken to other countries and forced to be domestic servants.
"Stop Girl Trafficking" is one of many projects of the American Himalayan Foundation. The focus is on prevention: when girls are in school they are less vulnerable to being sold or lured from home on false pretenses. The longer a girl is in school, the more valued she is to her family and to herself. It's working! Donate Here
This very successful program now has 8500 girls in 400 schools and not one has been lost to trafficking. Just $100 pays for everything for a girl to be in school one year.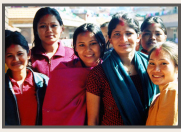 Many former trafficking victims work surveillance at Nepal's borders, assisting police in the intervention and rescue of over 2000 girls this year alone.
Anuradha Koirala Director and Founder, Maiti Nepal 2010 CNN Hero of the Year 2006 Courage of Conscience Award
Since 1993,
Anuradha Koirala
has helped rescue more than 12,000 women and girls frotm sex slavery.
Maiti Nepal
("mother's home") provides safe houses where rescued victims have a place to heal and to be educated (many trafficking victims are abandoned on the streets once they are pregnant and/or affected with HIV/AIDS). Intervention Outposts apprehend perpetrators and assist with prosecution. "We need to do this for all our daughters."
Donate Here