Nepal Adventure

The Great Himalaya Trail
Nepal Full Traverse 2012
It all started one evening after I had friends over for dinner. We had talked about my 2007 Nepal adventure, and when they left, I turned on my computer just to look up videos and pictures so I could "visit" again. And this how it happened…
February, 2011
So, what else could I do…? I mean, it's not like I could click the "back" button and it never would have seen it on my screen in the first place . . .
I saw just a clue, only a possibility, but even this slight hint of what it might be grabbed onto me and fired every cell in my brain. Desperate to find out more, my shaking fingers fumbled over the keyboard to find images, information, anything to confirm that this might be what I thought it was. I searched, I clicked, and waited for a screen to appear.
And there it was – as real and beautiful and spectacular and inviting as I had hoped it would be. It was all there! And I knew I was meant to find it! It's there for me…
"Thanks to the recent efforts of Australian mountaineer Robin Boustead, there is now a mapped-out continuous trail across the high Himalaya range in Nepal. Using an established network of existing village foot roads, then linking them together with rugged trekking and mountaineering routes, he has completed logistics for what is now the longest, highest and most challenging alpine trail in the world. Named 'The Great Himalaya Trail', this traverse of northern Nepal is 1700 km (1056 mi) long and passes eight of the earth's 8000 metre (26,247 ft.-plus) peaks, including Kanchenjunga, Makalu, Lohtse, Everest, and Annapurna. The trail crosses major mountain passes up to 6,000 metres (20,000 ft.) in altitude while climbing a total of 150,000 metres total. The Great Himalaya Trail offers everything from immersion in local culture in far remote regions, to the exhilaration of extreme adventure."
OMG! OMG! OMG! I HAVE TO DO THIS!
This is not the first time in my sixty-four years that I enter into what others may call a "stupid-crazy" or "wild child" state of mind, void of common sense, deaf to conventional wisdom warnings. I call it bliss, nirvana, whatever. I love adventure, I love mountains, I love the journey, I love the elation I feel when physical and mental challenges dare me to experience more and I succeed in meeting these challenges!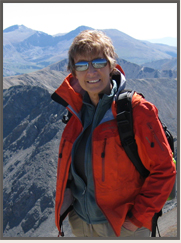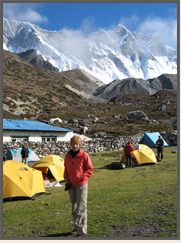 I have already climbed 33 of Colorado's 54 14,000' peaks! And I traveled to Nepal in 2007 and climbed Chukkung Ri (18,200'). I know I can do this!
Okay, packing up my gear and flying to the other side of the planet all on my own is probably [read: totally] a seriously bad plan. But who can provide the expert guidance and logistical management needed for a journey of this scope?
My fingers quickly search and find…
World Expeditions
Adventure holidays on the paths less traveled.
YES! They have just this year established and now offer "The Great Himalaya Trail – Full Traverse" among their programs. It's perfect! Food, equipment, sherpas, yaks, world-class mountaineers leading different sections, satellite phone, everything to guide me safely over Himalayan passes, glaciers and remote regions.
Their 157-day journey will begin February and end July 2012. It will start near Kanchenjunga at the eastern border, and end in Humla on the western Indian border.
"This route offers an incredible diversity in terms of landscapes, flora and fauna, people and culture: from snow leopards to red pandas, from sub-tropical jungle to fragile high-altitude eco-systems; from the famous Sherpas, to Shamanism, to the ancient Bon Buddhist culture of Humla."
THAT'S IT! IT'S PERFECT! I'M SET! I'LL GO!
(oh, yeah, how much is this going to cost?)
I'm not wealthy by any means and my retirement account isn't all that great. I'm mostly frugal, though. I don't have a television, don't go out to eat, and I don't do "mani's and pedi's". There is that other small part of me that might be a little bit out of control, however. I have sleeping bags, tents, backpacks, headlamps, hiking boots, climbing harness, rope, rock shoes, softshells, hardshells, helmet, ice axe and crampons. And possibly enough fleece/wool hats, upper/lower layers to render a herd of sheep naked. (What can I say, a girl can never have too many hiking boots or too much outdoor gear!)
So what's the cost? Found it! And the price is . . . £20,000. Crap, I have no idea what that is in U.S. dollars. More? Less? By how much?
Oh no… oh… no. It just can't be. I stare at the number, knowing it's a perfectly reasonable price, but at the same time thinking it's an unfairly high price:
$29,990
It's just too much. I have that much, but taking this much out of my anemic retirement account (plus airfare, plus more gear, plus who knows what else) is not a good idea at all! It's just too much. I shouldn't do this. I can't do this. I just… can't.
My dreams that night were of glaciers and high mountains, trails with rhododendrons in the spring, swinging bridges over swollen rivers, Nepali children walking to school, and villagers tending their perfect gardens. I slept well.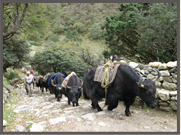 The next morning, boots on and dressed warm, I went on a long winter hike near home. The crest of the trail in Darby Creek Park became the high Sherpani Col, the ice path became a glacier to cross, and the creek became a crevasse to carefully avoid. I let myself go deep into this fantasy world. I was on The Great Himalaya Trail! Nothing wrong with that – my financial reality kept a firm grip on me. I just can't. I just can't. I just… can't.
Fantasy over, the following day I dived back into the long list of projects waiting to be done to get my house ready to sell. But thoughts of The Great Himalaya Trail still crept back:
· I should look into weekly rates at the Leadville Hostel in Colorado; living there at 10,152' will really help me be ready for Nepal's higher altitude.
· I need to look into rescue/travel insurance for those six months I'm gone.
· I'll need to have someone watch my accounts and mail while I'm gone.
While I'm… Gone?????
I don't remember ever changing my mind. Did I black out or something? When did I rethink all this? Something usually happens between "I can't do this" and "I'm doing this", but I don't remember!
Silly girl, of course you're going! You can't NOT go!
September 2011
A lot happened after I first discovered The Great Himalaya Trail in February. I contacted World Expeditions right away, completed the initial paperwork, and secured a tentative spot on the 2012expedition. They said my experience in Colorado's mountains was impressive, but further skills in glacier and snow travel were required before their approval committee would accept me.
The next six months tested my commitment, but my resolve never wavered:
• I completed all projects to sell my house—the "For Sale" sign is up.
• I hiked trails in Darby Creek park trails and Hocking Hills over and over.
• I reached the summits of Colorado 14ers eight more times.
• And climbed miles and miles of steep mountain trails with a loaded backpack.
Most important, I completed an 8-day Rock and Alpine Mountaineering Course offered by Mountain Madness based in Seattle, Washington. I did multi-pitch rock climbs up 400' walls, and rappelled down. I pitched my tent and slept high on Sulfide Glacier for three nights. I cooked my food. I learned about snow anchors, traveling safely on a rope team, using an ice axe to self-arrest in case of a fall, and crevasse rescue techniques.
We summitted Mt. Shuksan, a stunningly beautiful 9,100' peak in Washington's beautiful Cascades. The approach required a grueling 3600' climb with a 40-lb backpack up a steep, forested slope to high camp on Sulfide Glacier. After another 2400' climb two days later, we reached the base of the summit pyramid. Here we shed crampons, put on harnesses and did a roped climb up the steep 600' rock gully. We stood on Mt. Shuksan's magnificent summit and celebrated the most spectacular, crystal-clear, blue-skies view of the Cascades ever!
I am ready.
The Great Himalaya Trail journey begins February 19, 2012.
And so, dear reader, what are you going to do? I mean, it's not like you can click the "back" button, and you never read this story . . .
I already have so many stories to share, and I know my Nepal adventure will present even more experiences and discoveries you will enjoy reading. I want to take you with me on my journey.
This journey will be a very unique one. Two individuals (one from England, one from Australia) completed the full Himalaya Trail traverse July, 2011. This was World Expedition's first successful (and the only commercial) traverse ever! Two young American men completed the trail this year on their own. In the 1980's, Arlene Blum, an American mountaineer who led the first female ascent of Annapurna I, did a traverse, but as far as I know, no other female since then has done a journey across the Nepal Himalayas. Oh yes, and then there's that "age" thing. My age (64) is really irrelevant to me, I just do what I enjoy. But I realize most readers will think this is either crazy or amazing "at my age".